Everything you need to grow your business using social media.
Our Members Club will help you to gather more leads and establish yourself as an authority in your area using social media – all with minimal time and effort, so that you can focus on doing what you do best.
"It's like having your own marketing consultant to tell you what you need to know, why it matters, and how you can use it – without the high costs."
You'll get the same successful methods and insights that we use for our own clients, empowering you to get the most out of social media and online promotion without relying on a third party to help you do it.
Plus, you'll get a free download of our ebook "Social Video for Business" with your subscription, teaching you all about the hottest trend in social media and how you can start using it to your advantage immediately.

All of our Members Club materials are available any time and on any platform – desktop, mobile, and offline – allowing you to take in the easy-to-read sections and quickly put our methods to work.
What do you get?
1. Essential Insights
Our monthly Essential Insights will teach you the tips, tricks, and techniques used by our team, along with crucial social media updates and what they mean to your business, all organized into easy-to-read sections.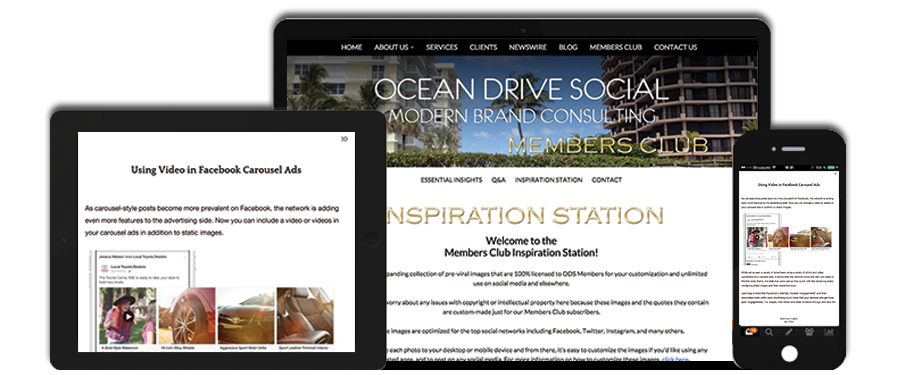 You'll receive the latest edition, with an interactive PDF copy delivered right to your inbox.
2. Inspiration Station
You'll be automatically licensed to use all of the pre-viral, customizable content from our Inspiration Station on any social media platform.

3. Members Club Q&A
You'll also have unlimited access to our Members Club Q&A, where you'll get the insight and detail that we give to our own clients on the toughest online and social media challenges facing businesses today.
For team pricing and corporate memberships, click here.